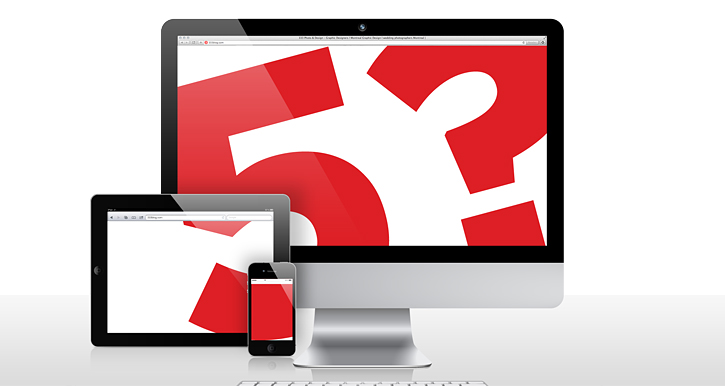 Every time a client approaches us to build a website, we usually go through a few preliminary questions to evaluate the project at hand. We thought we would list out some important questions to think about and tasks to do before starting to build a website. So lets jump right into it.

1. What is the purpose of your website?
As we all know wanting something and needing something are two very different things; nonetheless they both play a big role in deciding what kind of website you require. First of all you must decide what your website is going to be showcasing; for example will your website be selling products online or will it simply be offering a service? This is probably the most important question as you and your web designer must evaluate what platform you will need.
A platform is the system and structure behind every website. Some are geared more towards e-commerce such as Magento, Prestashop, Shopify etc. Then you have other platforms that are more for simpler sites and blogs such as WordPress, Drupal etc. There is always the option to build your own site from scratch without using a platform but the more structurally sound and efficient way should be done by picking an existing one. Having a proper infrastructure will set the required steps in embedding suitable search engine optimization techniques. After deciding what direction you will be taking, the next step is evaluating what you want to showcase on your site. This will pinpoint exactly what platform is best suited for your needs.

2. Preparing your content
I can't stress the following point enough; prepare your content ahead of time. If you are in the service industry, have a good idea of how you will be explaining your services online and how you will be featuring them on your website. You can even write out some of your pages to get a feel of how much content you will require. It is always better to have more and then cut down if need be, rather than not having enough and scrambling at the end to add things in. If you are selling products online, then decide how many products you want to launch your site with and then how many products you plan to add in the first few years. When starting to prepare text content, you will need a variation of headlines and slogans, to descriptions, to long descriptions. This way your web team can create proper hierarchy in telling your story.
When it comes to preparing media, you can gather photos, videos, and animations to help define your product and or services. Be careful here and do not think photos and or videos from your phone are good enough. Hire a professional to at least evaluate your current media inventory and to suggest the proper plan of action to acquire new photos etc. If you are doing an e-commerce store, it is even more essential to enlist the services of a professional to shoot your entire collection for optimum results.
The reason that this step is so important is that 1) It helps you realize who you really are as a company and what you are offering that is different than your competition 2) It helps your web designer evaluate the job at hand so that they can properly quote you and thus have no surprises at the end and 3) Makes the website creation process simpler on both you and your designer and 4) Not having good photos or videos will increase your bounce rate, and turn people away from your site.
Adding information in the end does happen, but it should be minor so it does not become financially prohibitive. A good tip is to search online and look at what your competition is doing.

3. How do you want your website to function?
So you have decided what kind of site you need, and how much content you will have; the next major question is what functionality do you want to have on your website? The functionality is what your website will be able to do. Let's say you are building an e-commerce site, the functionality can be small things such as colour swatches on each product, or having a wish list for your clients. Larger functions can be how your clients will checkout their items and what mode of payment they can use, or even how the site itself navigates from product to product. Navigation is a big key factor that will make or break your site, but this is decided later on with your web designer in the designing process.
Your web designer can suggest many options for you, but they can't read your mind either. Again do some research in what your competition is doing, jot down some cool things you liked about other websites and what you find is attractive, or how they interact with you. After you create your must haves, it will be easy to discuss this with your designer at the first stages rather than adding in functionality at the very end of the developing stage when you are most eager to go live. Again this could happen but changes should be kept to a minimal. This will cause stress for no reason on both you and your web designer, and building your website should be a fun experience not a race to the finish line.

4. Do you have a brand yet?
Your brand identity is very important and a website should be an extension of it. Many times the idea of creating a website comes after a brand has been created or it could be done simultaneously. Creating a logo, deciding a colour scheme, and setting a mood for your brand and website is a must for properly getting your message across to your client. I won't dive too deeply into the philosophy of brand recognition in this article, but do not take it lightly and simply say  "I just want my company name in the corner of my site, pick a nice font". Take the time to design a logo that has you or your company plastered all over it. Prepare this crucial element in conjunction or prior to your website so that your brand experience is fluid from your website, to your business cards, to your photos etc. Most importantly be proud of your logo and your brand because it is a critical element of the process.  If you do not believe in it, then why should anybody else?

5. What is the magic number?
After you have decided what you want to offer, what you want your website to be, how much content it is going to have, and all the bells and whistles you want to include, the next step is deciding how much you want to spend on your website. Everybody has a budget and a comfortable amount they want to invest. Even if you do not know how much websites usually cost, there is still a limit you want to initially spend. After creating your needs and wants, you can at least get quoted on each item and then decide to either do them all from the get-go or to hold off on some functionality for version two. You should also keep in mind that after your website is done and finished, it will require time and money to get your online presence in good ranking and to start showing up in search engines. Search engine optimization or SEO, and other ways of being more active on search engines such as Google can be discussed after the completion of your website. Just keep this in mind for budgetary reasons.
Re-evaluating what platform you should use at this point can be a good idea. There are always two ways to get the same results and each will have their pros and cons. Discuss all these aspects with your web designer and ask for an opinion as to what is best for you. If you can't create your dream website today, at least create one that can handle your needs and wants for your pocketbook. If you are totally out of your budget for the site you desire, then it may be a good idea to grow your budget and not break the bank at version one.
If you take each of these points seriously and do not rush the process, you will be on the right track and properly prepared when it's time to start designing your beautiful website.
333 web design Montreal, graphic design, commercial photography & videography.